Quinns Podiatry specialise in treating foot pain and providing the highest standard of podiatric care to keep you healthy and active.
With over two decades of experience, our team use evidence-based approaches to get the best possible outcomes for our patients.
No matter your age, background or lifestyle, we can help.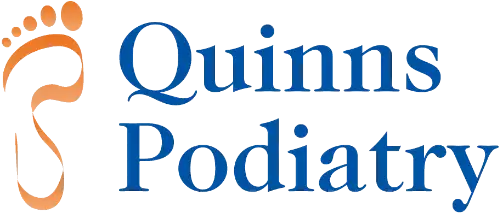 About Quinns Podiatry
Outstanding podiatric services, guaranteed
At Quinns Podiatry, a sister clinic to Drovers Podiatry, we're known for our outstanding service and detail-oriented approach.
Taking the time to work with each patient comprehensively, and with an established network of trusted health professionals, our team of podiatrists treat foot and ankle conditions holistically to give our patients a better quality of life.
If your foot or ankle issues are causing pain or discomfort elsewhere in your body, such as your knees, hips or back, our podiatrists will work with you to address these problems too.
What is a Podiatrist?
Experts in foot, ankle and lower limb health
When it comes to looking after your health, it's easy to forget about your feet. But healthy feet are an important part of your overall wellbeing.
Our podiatrists are specialists in foot, ankle and lower limb health. We assess, diagnose, and treat medical conditions and injuries affecting the foot, ankle and lower limb, which can also affect the knee, hip and lower back. We also provide dermatology services including the treatment of ingrown toenails, fungal nail infections, corns, calluses and warts.
Our podiatrists can perform minor surgeries and injection therapies to treat foot and ankle conditions. We also have a trusted referral network of health professionals, medical imaging providers, and orthopaedic and podiatric surgeons supporting our comprehensive treatment approach.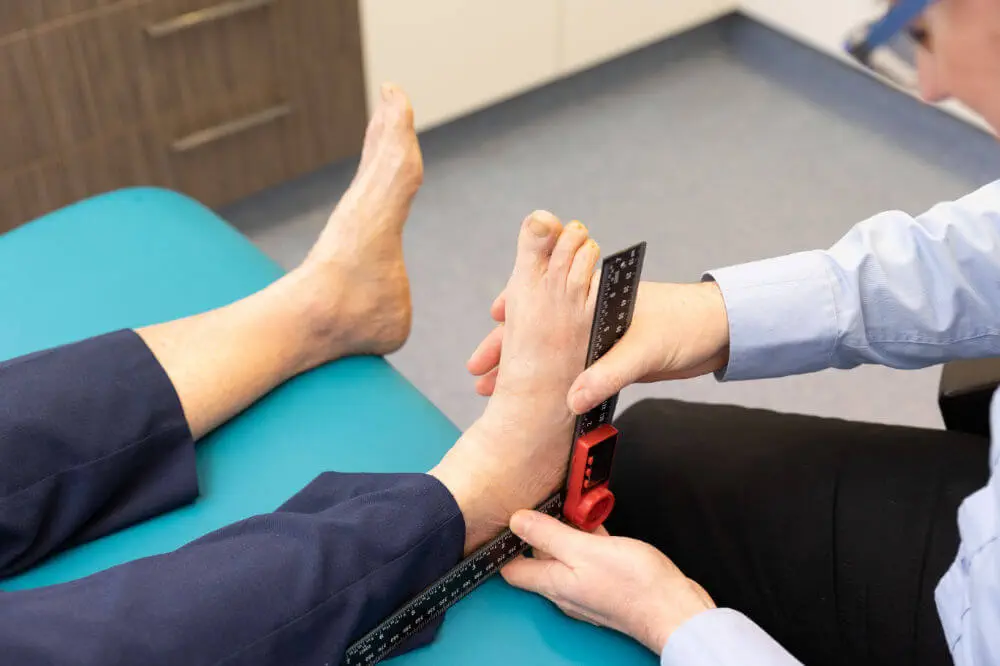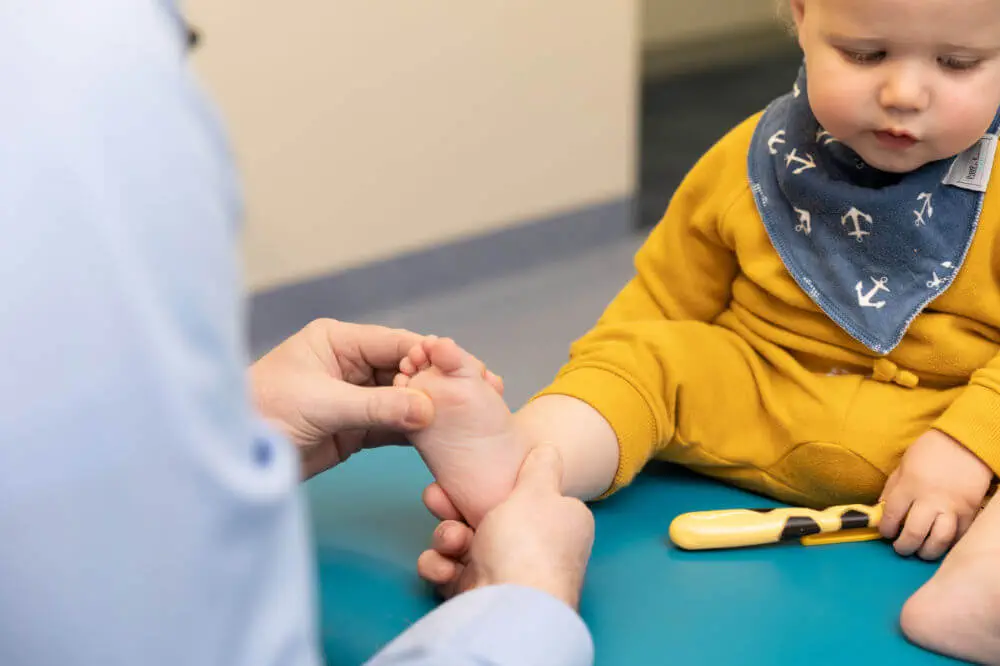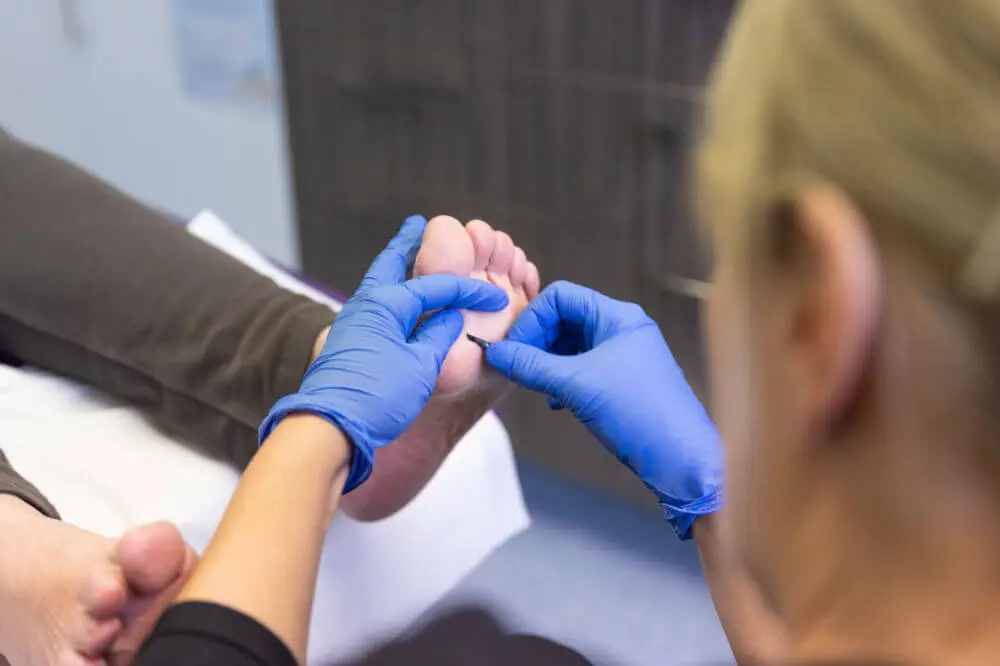 Foot Care Services
Common foot conditions we treat

Foot pain
Our podiatrists diagnose and treat a wide variety of conditions of the feet which may arise as the result of sporting injuries, trauma, poor foot posture/structure, or repetitive strain.
Our podiatrists have access to advanced medical technology to help identify and treat the root cause of your problem, getting you pain free and back on your feet quickly.

Child foot health
Foot, ankle and lower limb conditions in growing children and adolescents can lead to severe pain and issues with gait and participation in sports.
We provide specialised paediatric assessments and treatments to address conditions ranging from structural issues, such as flat footedness, to more general problems such as ingrown nails or infections.

Heel pain
Many different conditions result in heel pain, such as plantar fasciitis, Achilles tendon issues, fractures and arthritis, as well as cracked heels and other skin conditions.
Our podiatrists provide a comprehensive assessment to determine why your heel pain has occurred and work with you to treat the root cause.

Ankle issues
Our podiatrists are experts in treating ankle problems such as sprains, tendinopathies, and bone pathologies such as fractures or arthritis.
We can help you restore ankle function and strength using a range of non-surgical treatments as well as tailored, progressive rehabilitation programs.

Leg, hip and lower back pain
Our feet influence everything from the ground up, which is why foot issues can also affect our knees, hips and back. Our podiatrists are highly experienced in diagnosing and treating these conditions.
We perform comprehensive biomechanical and gait assessments and use evidence-based treatments and cutting-edge medical technology to address the root cause of your pain and restore function.

Orthotic prescriptions
Orthoses can improve overall foot and lower limb function to resolve pain and help you perform at your best.
Our podiatrists provide insole modifications, prefabricated orthoses, custom orthoses and ankle-foot orthotics (AFOs). These prescriptions are bolstered by rehabilitation programs, taping, mobilisation and dry needling to help you achieve optimal function, every day.

Ingrown toenails
Ingrown toenails can be debilitating and cause problems such as infection and gait changes. Our podiatrists are experts in treating these conditions to alleviate pain and resolve the infection.
Our treatments are performed same-day and can be done under local anaesthetic if required. We also perform minor surgeries in clinic to temporarily or permanently remove the affected portion of the toenail.

Fungal infections
We treat fungal infections including athlete's foot (Tinea pedis) and fungal nail infections using effective medical interventions ranging from topical therapies to targeted laser therapy.
Since these conditions often require a number of treatments, we offer packaged appointments to help you truly get on top of the problem.

Warts (viral infections)
Viral infections such as verrucae pedis (plantar warts) are commonly found on the feet and can be treated by our podiatrists to reduce discomfort and resolve the infection.
A number of treatment methods are available and our podiatrists will work with you to identify the most suitable and effective approach for you.

General foot care for skin and nail conditions
Corns and calluses form where there is high pressure or friction, such as the undersides of the foot. We offer general foot care to reduce discomfort and pain from corns and calluses, although other measures may be needed to prevent recurrence. Our podiatrists will help you determine the best treatment to address your issue.
Blisters occur due to friction in our feet, and are one of the most common injuries in sport. Our podiatrists can help alleviate blister pain and discomfort as well as implement strategies to help prevent blister formation.
Toenails can become uncomfortable when they thicken, lift away or become involuted. Our podiatrists use specialised, sterile equipment to reduce pain and discomfort caused by toenails. We also treat fungal nail infections and ingrown nails.

Diabetic foot problems
Our podiatrists can determine the risk of serious diabetes-related conditions that can affect the foot and ankle.
We perform a non-invasive neurovascular assessment using trusted medical technology to measure and detect the quality of blood flow and nerve sensations in the foot, working with your GP to comprehensively manage your medical condition.
Our Accredited Partners
We refer our patients to these trusted companies for their footwear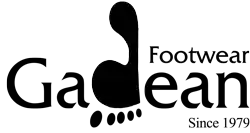 Glenn Zoontjens
Founder & Senior Podiatrist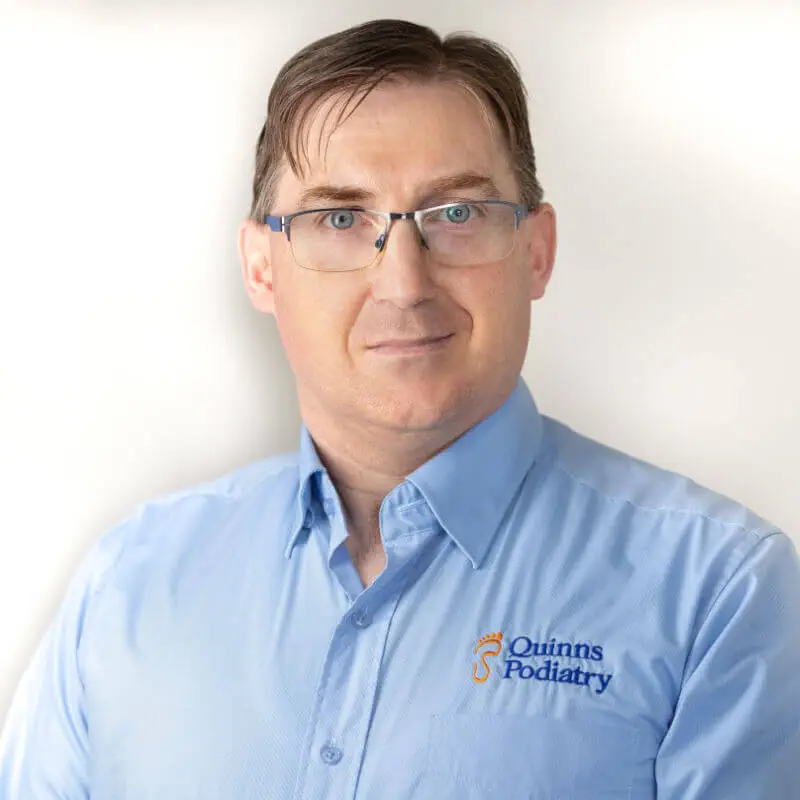 Glenn has been practicing podiatry for more than 25 years and founded Quinns Podiatry in 1996 before expanding the business with the opening of a second practice at Drovers Podiatry in 2017.
Glenn is passionate about working with children and providing parents with foot health assessments to ensure their little people's feet are correctly aligned for walking. He also treats any issues with children's feet at any age.
Glenn is very focussed on using techniques to alleviate pain in the lower back to the toes. He feels great satisfaction seeing his patients walk out of the clinic with considerable ease and in more comfort than when they arrived.
For several years, Glenn worked as the senior Podiatrist for the DSC (Disability Services Commission) in Joondalup until the Podiatry Department was closed.
Jan Zoontjens
Practice Manager (Business)
Jan is based at the Drovers Podiatry practice and provides administration support as an all-rounder who keeps the practice organised.
Bernie Latimer
Receptionist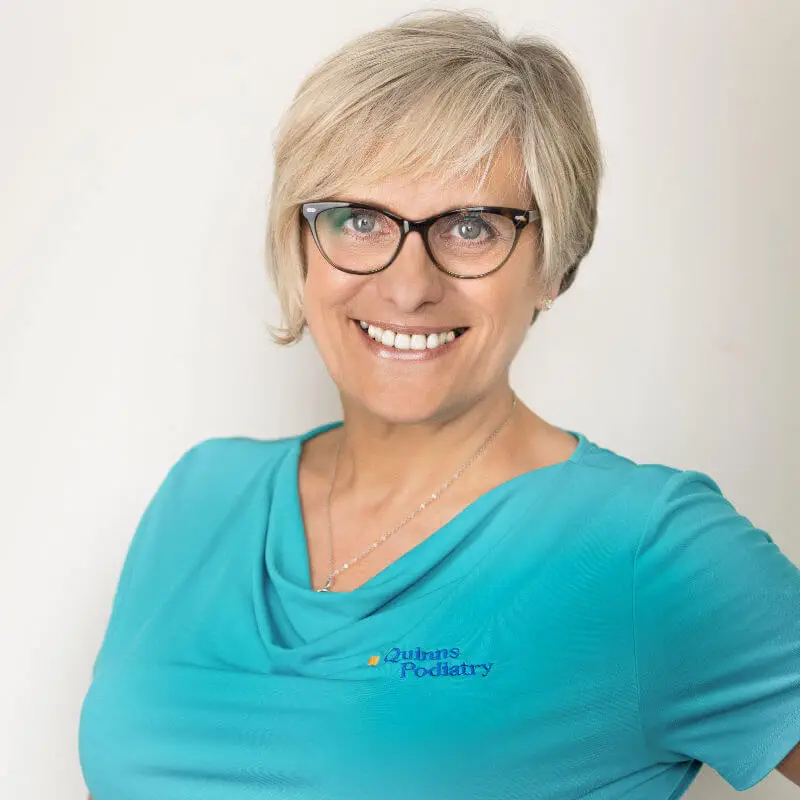 Bernie will greet you with a welcoming smile and an understanding manner when you arrive at the practice. She organises appointment bookings and processes payments.
Kathryn Hudson
Podiatrist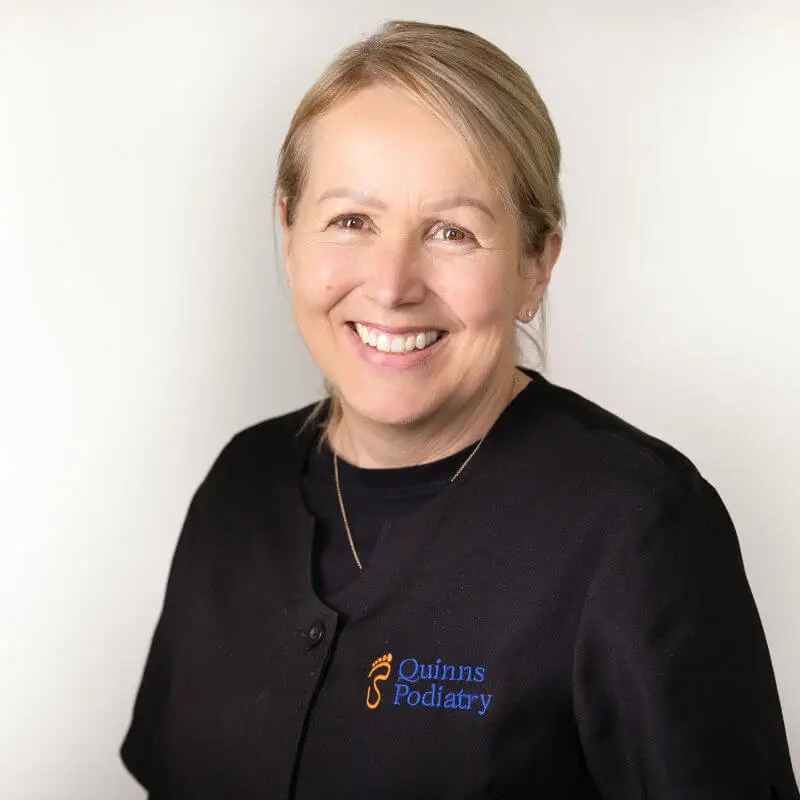 Kathryn qualified in 1994 with a BSc Podiatry from the University of Huddersfield, UK.
She worked for the NHS in the UK for 16 years, before emigrating to Perth and started working at Quinns Podiatry in 2010.
Her special interests are diabetes, nail surgery and general podiatry.
Benny Sullivan
Podiatrist
Benny graduated as a Doctor of Podiatric Medicine from the University of Western Australia, where he gained experience in private practice podiatry and hospital podiatric services. Prior to vocationally retraining as a podiatrist, Benny enjoyed a diverse career in healthcare senior management.
Benny has a keen interest in sports medicine and biomechanics, with a particular interest in heel pain, musculoskeletal issues and sports injuries. Benny uses a multifaceted and evidence-based approach to his treatments, and also provides podiatric services to elite athletes and world champions in Muay Thai and weightlifting.
Frequently Asked Questions
What is your COVID policy?
We have a strict COVID policy and ask you to please stay home if you have been overseas or interstate in the previous 14 days. If you are feeling unwell, please reschedule your appointment.
How do you keep your practice COVID safe?
We have strict cleaning procedures in place, wiping down surfaces in between appointments and regularly sanitising our hands.
Do I need a referral to make an appointment?
In most cases you don't need a referral to make an appointment, unless:
You have complex medical conditions, and your doctor refers you to an allied health provider (such as a podiatrist) under an Enhanced Primary Care Program (EPC), commonly known as a care plan.
You hold a Department of Veterans Affairs (DVA) gold card and the DVA pays for your podiatry appointments. You will need a referral from your doctor which needs renewing every 12 months, or after the 12th visit – whichever comes first.
You hold a DVA white card. The DVA will rebate your podiatry fees if your service-related injury or condition is covered under your DVA white card. If you are unsure of your eligibility, please check with the DVA or your GP prior to booking to ensure you are covered.
You have been in a motor vehicle or work-related accident and your treatment is being covered under an accident claim. In this instance you will need a referral from the GP managing your claim.
Can I claim appointments on Medicare?
You can only claim appointments on Medicare if your doctor has given you a care plan for a complex medical condition. Medicare subsidises the cost of an appointment under the EPC scheme. A gap fee is charged on top of the Medicare rebate. Contact our friendly reception team if you would like to know gap fee amounts.
Can I claim appointments on private health?
Private health funds will rebate some or all of our appointment fees. The rebate will vary according to the level of cover you have and the treatment you receive. Our friendly reception team will be happy to give you the item codes to check your rebate with your private health fund prior to your first appointment.
Private health fund rebates are processed on the HICAPS terminal at the time of payment, so you only pay the gap.
We take payment by Debit / EFTPOS / Credit / AMEX cards, as well as cash.
Do you accept concession cards?
We offer reduced appointment charges for holders of Pension, Seniors and Health Care cards. You simply need to provide us with the relevant card at the time of the appointment.
Do I need to make an appointment?
Yes. Our podiatrists are highly respected, and as such our appointments book out quickly. We will try to accommodate you if there is an urgent need. 
Online bookings can be made here.
Please call the practice if you can't find a booking to suit you, as we have a cancellation waitlist.
What should I bring to my appointment?
If you are attending for general foot care or a diabetic assessment you do not need to bring anything specific with you.
If you are seeing the podiatrist for pain management, injury rehabilitation or walking issues, then we ask you bring along any relevant scans or x-rays, any previously issued orthotics, and the shoes you wear most often and for sports/exercise.
Reviews
What our satisfied patients say about us
"As far as we're concerned, all is perfect."
Claire Kilroy
"Always professional, thanks so much!"
Ken Tasker
"I leave on cloud nine. Lovely, thank you."
Margaret Lees
"Excellent reception staff as always."
F & J Wright
"Beautiful staff who always put themselves out to help if you need to re-arrange."
Beverly Collsridge
"Very good service, always."
A Cameron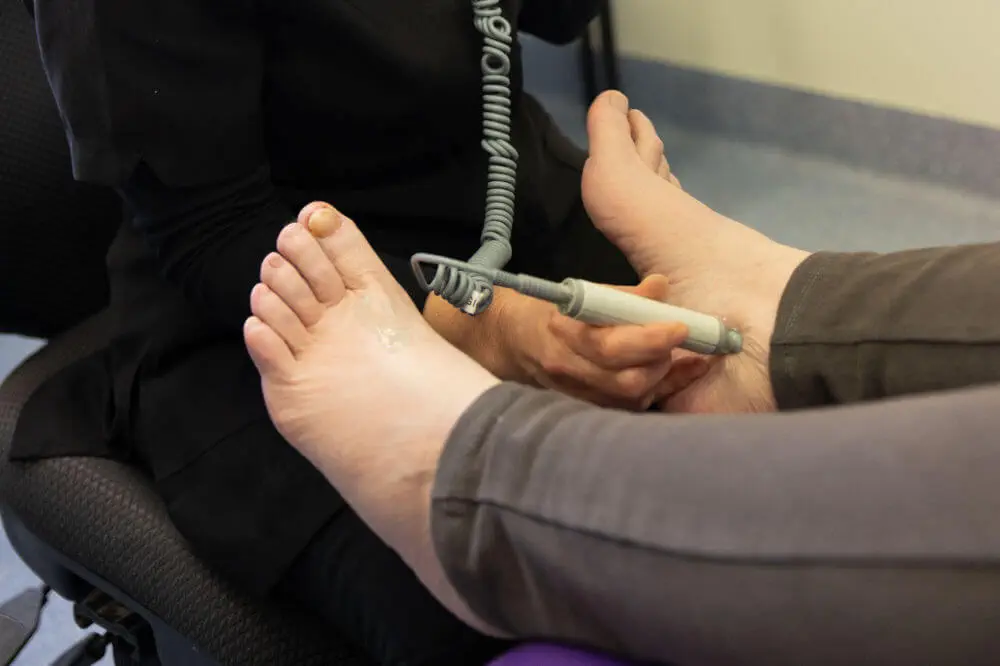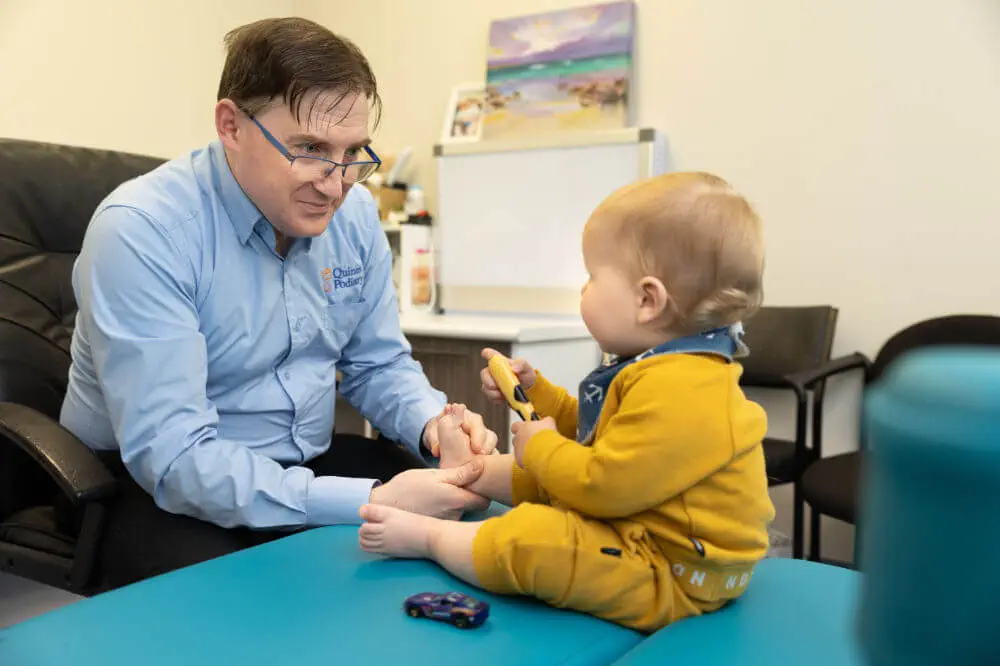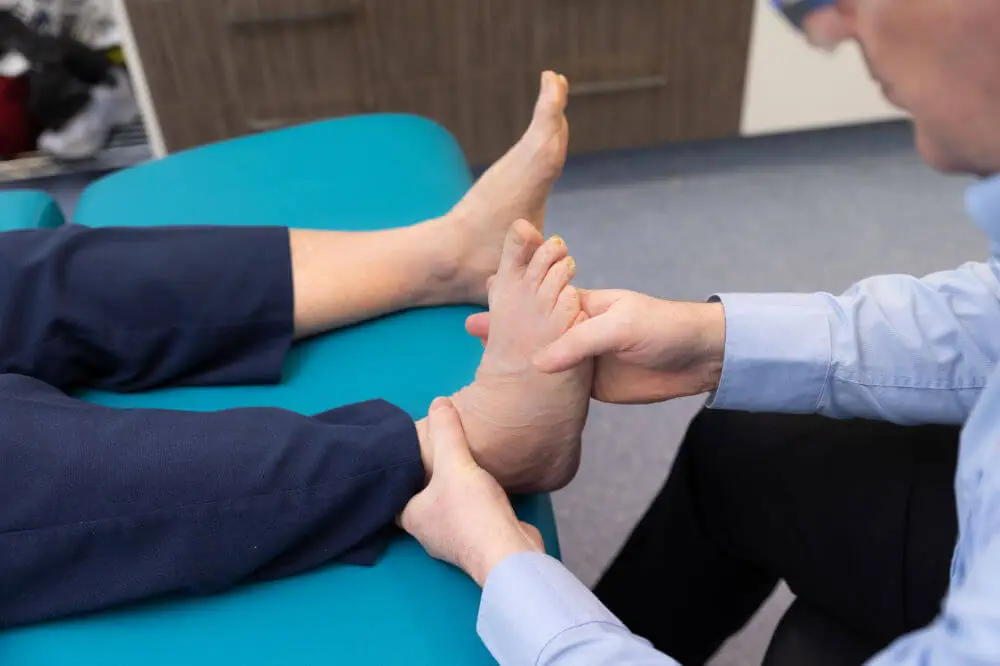 Opening Hours
Monday and Thursday
8:00am – 6.30pm
Tuesday, Wednesday and Friday
8:00am – 5:00pm
Saturday
8:00am – 1:00pm